Cellulaze™ Reduces Cellulite in a Single Treatment*
Many of our patients are concerned with cellulite on their legs and buttocks. For some people, even a healthy weight and routine exercise seem to have no effect. Dr. James E. Murphy uses Cellulaze™ technology to help patients reduce cellulite and achieve a smoother, more youthful skin tone in the thighs, buttocks, and other regions. This advanced laser therapy targets the tissues around the fat cells for more dramatic and longer-lasting results than other cellulite treatments. To learn more about Cellulaze™ at our Reno practice, contact Murphy Plastic Surgery & Medical Spa today.
How Does Cellulite Develop?
Cellulite is a common condition that primarily affects women ages 25 and above. Many men and teens are also prone to developing cellulite. The condition is often associated with being overweight. However, individuals at their ideal, healthy weights can develop cellulite, especially around their thighs, knees, and buttocks. Although fat cells are partially responsible for cellulite, the connective fibers in your skin also play a role. Often a result of aging, these fibers can tighten, causing the fat cells to press up against the surface of your skin. If you have naturally thin skin, this accentuates the appearance of fat deposits, leading to a dimpled appearance.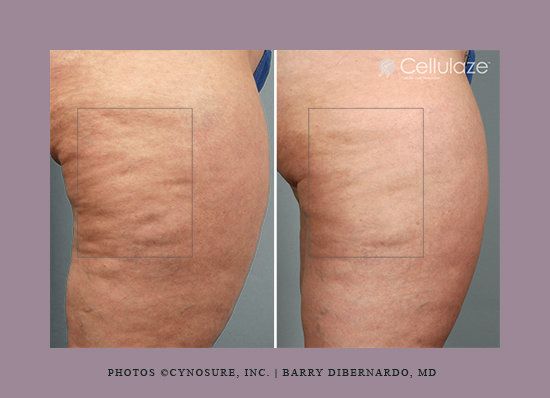 Revolutionizing Cellulite Treatment
Although weight loss, exercise, and liposuction can reduce cellulite to a small degree, these methods do not address the fibrous connective tissues. Cellulaze™ is the first treatment that actually targets these structural issues within your skin.
To perform the treatment, which works much like Safe Sculpt, James E. Murphy, M.D. will numb the treatment area. Then he will create several incisions (roughly the size of the tip of a pen), and insert a tiny cannula, or tube, to apply the laser energy. The high-power light will melt the fat cells. It will also break through the fibrous bands to alleviate pressure on the remaining cells. At the same time, Cellulaze™ will stimulate collagen production for even more comprehensive results. When the laser treatment is complete, James E. Murphy, M.D. will gently press out the extra fat cells.
What To Expect After Treatment
After your Cellulaze™ treatment, you may experience some minor sensitivity and irritation. You can usually control this discomfort with mild, non-prescription pain medication. You may also need to wear a compression garment which will enhance healing and give your body a firmer, more youthful contour. Typically, you can return to work a day or two after your procedure. You should avoid physical activity for a bit longer. In most cases, you can resume your normal exercise routine after a week or two. Because Cellulaze™ liquefies fat cells and boosts your skin's own healing process, it may take several months to see your final results. Most patients notice a dramatic change immediately after treatment, and their skin continues to improve for three to twelve months.
Achieve Smoother, More Youthful Skin
If you are unhappy with your appearance, there is no reason to suffer with cellulite. Contact our office today to learn more about Cellulaze™ and discover if this advanced treatment is right for you.
* Note: Results are not guaranteed and can vary per individual. *